People Are Too Stupid To Be Trusted With The Vote.
Mood:
irritated
Now Playing: Clouds- Hole
Topic: Election Special.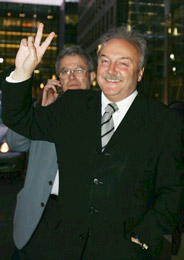 Evening,
Well despite my tactical vote, evil triumphed in Glasgow Central. I sincerely hope all 13,518 of you contract MRSA in a filthy hospital under the care of your beloved Labour Party and then I will dance round you singing 'Ha Ha that's what you voted for. Scum the lot of you!' What does it take to make these fucking sub-literate morons stop voting Labour? I loathe, hate and detest that west of Scotland 'well ah vote Labour cos ma faither did' mentality. I wouldn't mind if they didn't realise Labour were shite, but they do. Everyone in Glasgow knows the Labour controlled council are corrupt, incompetent, lying, self-serving demons and that the Labour government aren't much better. Yet, still they persist, plodding down to the polling station, voting for a Labour party that has done nothing but sell them down the river and treat them with contempt. I keep myself sane by imagining that one day people will raise their expectations.
However I was greatly cheered by George Galloway's triumph over the odious Oona King. Did you see the look on her face? She was fizzing mad! O how I laughed. I can't wait to see the look on Blair's face at prime minister's questions when George rises up like the demon king in a nightmare pantomime and asks a question. Blair looks like he's close to the edge as it is, this could push him over. However rather than leave anything to chance let's
get the fucker impeached.
Cheerio.
Posted by Clairwil at 7:55 PM BST