Accidental Comedy Gold
Mood:
surprised
Topic: Andrea Dworkin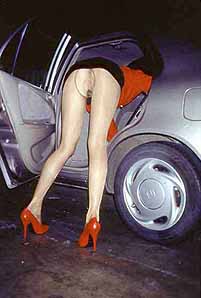 Good evening,
I got home this evening to find the phone ringing and made the mistake of answering it. It was my boyfriend canceling me for tomorrow evening. I have never been so furious in all my life. He's had his last blow job from me until at least next April.
Anyway moving on, I was looking at my blog stats this evening and noticed that someone had arrived at this blog looking for Andrea Dworkin in Google Images. 'That's queer' I thought. 'I like my readers why would I put a picture of that grotesque creature on my blog? It simply isn't the sort of thing I do.' I put all of my technical know how to use and clicked the link, only to be confronted with 'Ass In Car' by
Richard Kern
. It would appear that in a moment of absent mindedness or divinely inspired mischief I'd saved the picture under the subject of my
post
rather than it's rightful title. Oh dear!
Those of you have been reading long enough to know how my mind works will know what's coming next. I am issuing my fellow bloggers a challenge. Just for fun let us see how many inappropriate images we can get into Google for Andrea Dworkin. Just imagine, in years to come frisky adolescents could be keying 'Andrea Dworkin' into search engines whilst looking for smut. The gauntlet has been thrown down, you know what to do next.
Cheerio
Posted by Clairwil at 10:34 PM BST