Over At Sian's Blog The Deaths Continue....
Mood:
incredulous
Now Playing: Jolene- Dolly Parton
Topic: The Less Fortunate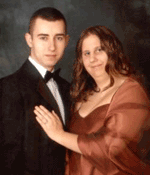 I thought I'd take a peek at
Sian's
peerless blog to see how things are going. Readers I was not disappointed. Todays entry is a tribute to the trail of dead strewn throughout her pointless life.
In amongst the predictable list of dead nans and aunties is the following;
Mine and Mark unborn baby - Nov 2004 (will never forgive matt for punching me so many times that i lost the baby)
I love it! Ponder the style, no explanation, nothing. It's only six months ago! This is a women who tells us about visiting McDonalds as if she's just witnessed the second coming of Christ, yet casually tosses in a miscarriage caused by a violent assault like it's, well a trip to McDonalds. Priceless! I must say Sian seems to get walloped by men rather a lot. Is this normal is peasant circles?
It all reminds me of a former friend of mine who used to get raped every time she went out the front door. It was hilarious! Virtually every sentence that came out her mouth ended 'and then he tried to rape me'. It wasn't just strangers either, all her ex-boyfriends raped her as well. The strange thing was, rather than avoiding men, she spent most of her time trying to mount them, every time her boyfriends back was turned. It all got too much for me in the end and I've been very sucessfully avoiding her for several years but do experience occasional feelings of nostalgia for that strange period of my life. That's the problem with nutters, they're utterly exhausting to be around, but you miss them when they're not. I should also stress that five minutes in her company would turn me homicidal before anyone attempts to track her down and reunite us.
Cheerio.
Posted by Clairwil at 10:19 PM BST
Updated: 26/04/05 7:53 PM BST