Anarchy In The Ochils
Mood:
mischievious
Now Playing: Man Size- PJ Harvey
Topic: Here is the News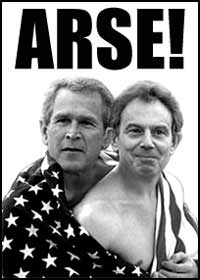 Evening,
'Demonstrators from a range of anti-capitalist, anti-globalization and anarchist groups scattered across an oat field when the police charged. A handful threw stones and clods of earth at the police.'
Just ponder the beauty of the above. Fighting police in an oat field, how lovely! I don't know why but the thought of violence in an oat field makes me feel slightly dreamy.
The cheeky anarchists have redeemed themselves slightly with today's antics although I still want the cunts that wrecked those flowerbeds birched. I saw the scamps on the news earlier attacking Burger King and various high st banks which strike me as legitimate targets. I was further tickled by the cheeky mooning display. I don't think mooning as a form of political protest is used nearly enough and I hope to see more of it in the future. To set a good example I will place a specially commissioned portrait of my arse on my I-D card when I'm eventually forced to carry one. Fat lot of good their iris recognition pish will do them then. That'll fuck the fuckers.
For some reason stacks of police were lurking at St Mungos Primary School as I was passing earlier today, thus foiling my plan to invade the school and murder a few teachers. It was horrible I felt like Tippy Hedren in The Birds; everywhere I looked there was a policeman waiting to pounce. It was disgusting! They were lurking behind trees peeping, just peeping. I put on a particularly flamboyant hat I had in my bag in an effort to scare them off. I'm pleased to report that it worked and I was left unmolested.
I'm off now to marvel at the stupidity of Sharon Davies on Newsnight.
Cheerio
Posted by Clairwil at 11:06 PM BST