The Headmaster is Watching You.
Mood:
surprised
Now Playing: Violet-Hole
Topic: Text Grass Hell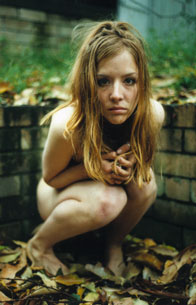 I see the nations schoolchildren are to be deprived of the fun and essential release of truanting. It was called 'dogging it' in my day but in these post- Stan Collymore times I think it best to stick to truanting. I really do not want to get a reputation as a sinister underage dogging site.
Anyway to wander back to the point- truanting. I have been made aware by a popular Scottish broadsheet that schools are going to inform parents via text message that their children have not turned up for school.
Teachers are cunts apart from the tiny minority of good ones. They really bring out the worst in me. I support the rights of any other workforce when they strike or protest to improve their pay and conditions but not those twisted, bullying, child hating, fuckpigs. When I am in charge teachers I deem to be good will be put on a very high salary and enjoy good holidays etc but the majority will be paid a penny an hour an publicly flogged for my personal amusement.
It is barbaric to expect bright, intelligent children to endure these idiots without an escape route. I would have gone mad and gunned down half the school if I hadn't taken the odd illicit day off. All these arguments about truanting teenagers getting into trouble are ridiculous. The only children that applies to are the trainee criminals and halfwits of the future who would still be a menace if they were forced to attend school.
When I used to truant I would go to the park for an hour, then mass at eleven (I'm not a Catholic, I just liked the statues) then off to the McLellan galleries or the Mitchell Library. I also used to walk everywhere. So I basically covered all the interesting bits of the curriculum without having to be made to feel like shit by some bitter, twisted, cunt of a teacher or having to worry about some ned kicking my head in. Other than showing a desire to educate myself I really don't feel I was much of a threat to anyone. In fact my forays to the Mitchell Library made me a more responsible and peaceful person.
Example: Me at thirteen- 'I fully support the Provisional IRA and think most of the people they kill probably deserve it for not liking The Smiths as much as me'
Me at Eighteen- 'I am in favour of ending the British occupation of Ireland but do not think terrorism is the best way to achieve it (apart from the Brighton bombing which was hilarious)
You see! My ideas evolved by reading books and thinking for myself. All I ever learned from teachers whose sole aim was to humiliate children and make them feel like shite was hatred and aggression.
FYI- In assembly one day 'Spam'(the headmaster)told us that anyone not computer literate by 2000 would be unemployable. He then went on to tell us that there were only 20 pupils out of a possible 200 in each year allowed to take computer studies. He didn't feel the need to apologise for this and seemed quite happy that 180 pupils in each year would be unemployable after leaving the school he was in charge of. He then went on to state quite seriously that anyone who had more than one day off sick a year was homosexual. Apparently 72% of my year were homosexual. Even the girls!
To conclude this long and rambling post. If I hadn't truanted I would be a terrorist instead of the entirely harmless charity worker I am today. Hurrah!
No Sian news. The lazy fat bitch is either off preparing for the inevitable appearance on Trisha or lying around eating junk food and whining.
Keep saving
Danny.
Posted by Clairwil at 10:28 PM GMT
Updated: 24/03/05 11:08 PM GMT